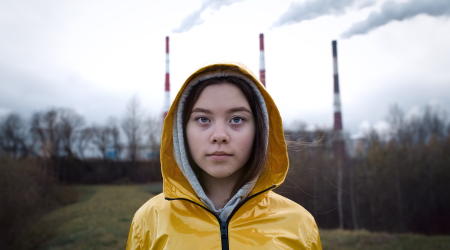 In our previous blog post we spoke about animal welfare/rights organisations in the not-for-profit sector and provided our readers with a comprehensive list of organisations in Australia and the Asia Pacific region. In this blog we will be shifting our focus to climate change organisations and the important role they play in preventing and reducing environmental damage.
Climate change and environmental organisations make decisions that influence the choices of millions of consumers around the globe and play a pivotal role in raising awareness and addressing the effects of climate change. Climate change organisations have the ability to pressure policymakers and governments to listen to scientific experts and to take the consequences of climate change seriously.
If you're concerned about the effects of climate change on our world, then making a career move into the sector may be the fulfilling and rewarding path you're after. Below is a compilation of Australian and Asia Pacific based climate change organisations. Please also do your own research as there are many we haven't included.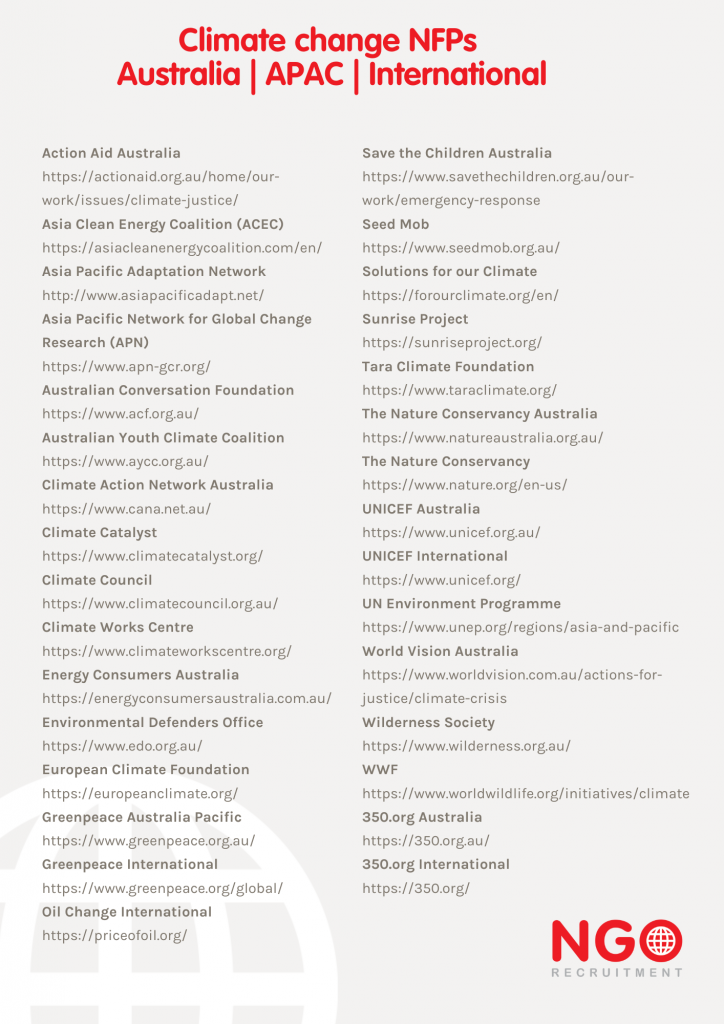 Across the climate change sector there is a broad range of in-demand jobs, from head office roles such as sustainability officers/managers, global & digital campaigning specialists, operations and HR managers, fundraising and executive officers, to more frontline roles such as environmental consultants, scientists and researchers who specialise in climate, energy, oceans, ecosystems, health, science, and more. To gain familiarity within these types of roles or to begin applying for jobs within the climate change sector, head to the job boards or visit the career pages listed below.
When searching for roles within the climate change sector, you may come across phrases or words that you are not yet aware of. To help you gain familiarity, we have collated some popular phrases within the sector and their definitions below:
Climate Justice – As described by Friends of the Earth "Climate justice means finding solutions to the climate crisis that not only reduce emissions or protect the natural world, but that do so in a way which creates a fairer, more just and more equal world in the process. As injustice is a root cause of the climate crisis, so fighting for justice must be at the heart of the solutions".
Energy Transition – As described by S&P Global "Energy transition refers to the global energy sector's shift from fossil-based systems of energy production and consumption — including oil, natural gas and coal — to renewable energy sources like wind and solar, as well as lithium-ion batteries".
Renewable Energy – As described by the United Nations "Renewable energy is energy derived from natural sources that are replenished at a higher rate than they are consumed. Sunlight and wind, for example, are such sources that are constantly being replenished. Renewable energy sources are plentiful and all around us".
Climate Change Governance – As described by The World Bank "Climate change governance uses institutions to address governance failures, strengthen incentives and build capability for climate action".
Climate Change Disclosure – As described by the European Commission "They provide guidance for companies on how to report on the impacts of their business on the climate and on the impacts of climate change on their business".
Stay tuned for our next blog post and keep up to date with NGO Recruitment's latest NFP sector insights by following our LinkedIn page or by regularly checking our website for more updates.