NGO Recruitment is Australia's leading not-for-profit (NFP) sector executive search, recruitment and HR specialist. We are also the recruitment specialists in the niche discipline of fundraising. For nearly two decades, we have sourced talent for the complete range of NFP organisations, from large multinational NGOs to neighbourhood centres, and everything in between. Our unrivalled NFP and corporate networks enable us to find the very best local and international talent to help drive, shape and empower the NFP sector.
We partner with:
International non-government organisations,
Charities,
Community groups,
Health and animal welfare organisations,
Education institutions,
Industry associations,
Faith-based organisations,
Political and activist groups.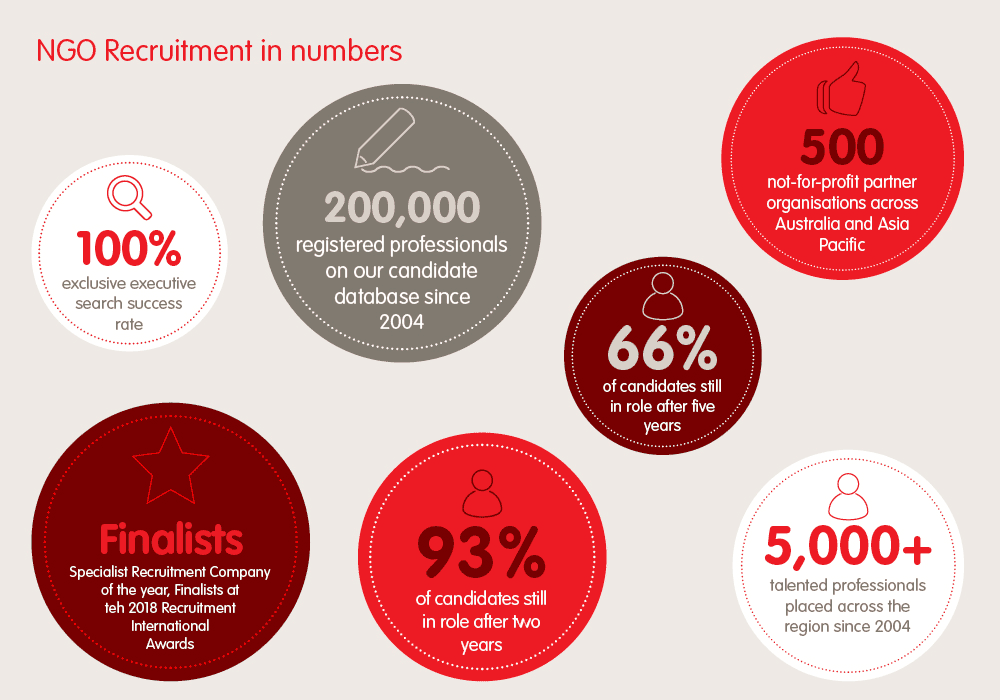 We offer proven exclusive executive search and permanent recruitment services, and non-exclusive contract and temporary recruitment services, sourcing roles at all levels within NFP organisations – from Board chairs, CEOs and fundraising directors, to lawyers, lobbyists, HR managers, disability case managers and finance and operations professionals. We also deliver tailored HR and unique career transition services designed specifically for the NFP sector.
Our collaborative, genuine and values-based services are founded on an in-depth understanding of the unique complexities and culture of the NFP sector. The value we place on cultural fit underpins our executive search and recruitment success. We partner with our clients who trust us each step of the way to find the right person, not just any person for the job – no matter how complex the brief.
With offices in Sydney, Melbourne and Brisbane, and dedicated UK and Asia Pacific consultants, our experienced team works cohesively, recruiting across metropolitan, regional and remote Australia and into Asia Pacific and Europe. Our proven international search capabilities enable us to source the very best global talent for specialist roles.