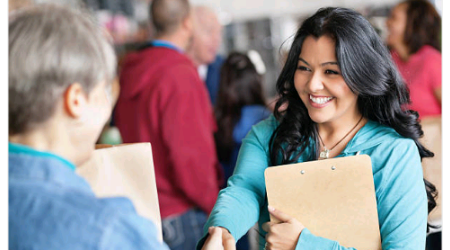 Demand for fundraising skills soars

Over the last 12-24 months, the demand for fundraising skills within Australia's not-for-profit (NFP) sector has soared leading to a current shortage of talented fundraising professionals across all fundraising specialties.
Largely driven by NFPs experiencing uncertainty around government funding, demand is also being driven by NFPs looking to diversify revenue streams and grow organically. International aid organisations with an Australian presence are also ramping up fundraising activities in readiness for future climate change and refugee response programs.
"We are continuing to experience shortages of fundraisers across the board, from fundraising assistants and major donor fundraisers to bequest executives," says Richard Green, Director, NGO Recruitment.
"Demand for young graduates with five-plus years' experience in the $70-$90,000 salary bracket is particularly strong as they're highly educated, articulate, hardworking and inspired to make a real impact on society."
With permanent senior fundraising roles often taking up to four months to fill, demand for temporary and contract fundraisers to fill the gap is also strong. Spikes in demand for temporary or contract fundraisers are also being driven by short term high-intensity fundraising campaigns.
Salaries
Throughout the sector, NFPs are responding to the ongoing candidate short market by attracting and recruiting high-calibre fundraisers wherever they can. And although salaries have remained relatively stable in the last 12 months, the basic rules of supply and demand are evident, with NFPs now having to adjust salary expectations.
"NFPs need to accept that anyone who can raise money is in huge demand. Salaries for niche in-demand roles such as major donor fundraisers have jumped and often these people are being paid more than equivalent grades in other organisational areas such as corporate services," says Richard.
"A shift in recruitment mindset is therefore required. You may only want to pay a certain amount, but if that's not buying you the skills you need, you have to pay what the market is demanding," he adds.

Top three fundraising roles in demand
Major donor fundraisers
Digital marketing fundraisers
Individual giving managers
The Australian tertiary sector is currently the largest employer of major donor fundraisers with both Melbourne University's Believe and Sydney University's Inspired philanthropic campaigns offering rewarding fundraising career opportunities.
With the increasing sophistication of the online world, and the way in which people engage with organisations shifting due to the prevalence of social media, digital marketing fundraisers are also highly sought after.
And individual giving managers continue to be in high demand due to their broad skillsets and ability to engage with existing donors to maximise regular giving and to drive annual appeals.
Outlook 2019
A shortage of fundraisers across the board will persist into 2019 with salaries in difficult to source niche areas continuing to spike. As the NFP sector in Australia continues to mature, we also expect to see a groundswell of smaller organisations looking to fundraise in the major donor area which will create added pressure and demand for these specialist fundraising professionals.