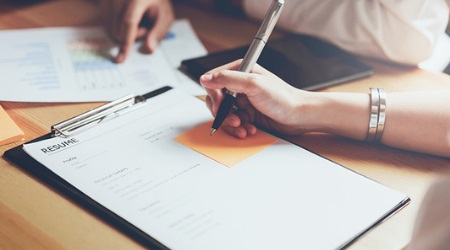 We share some tips on optimising your CV so that it stands out from the crowd.
As technology has advanced, the ability to create a bright, snazzy looking resume has never been easier.
But just because you can put a million different graphics, lines, columns and graphs into the document, should you?
Probably not. You should think twice before adding in all the bells and whistles, according to Lois Freeke from NGO Recruitment.
We sat down with her to get some tips on the best ways to  optimise your resume and help it stand out from the crowd, without putting a moving graphic in the background.
We sat down with her to get some tips.
Use key words and phrases to get attention 
Recruiters, HR managers and resume tracking systems have to scan through a lot of resumes – so make sure you use the same key phrases and words from the job description to help them take notice of your CV.
"So the average reader statistically looks at the top third of your resume for an average of six seconds and decides whether to read on," Freeke said.
"Make sure you're positioning yourself for that job in the most powerful way possible."
Keep it short and sharp 
It can be easy to get carried away when talking about your skills and experience – especially if you really want the job.
But as Freeke explains, keeping your sentences short and sharp will land you in a better place.
"Don't use dense paragraphs. The human eye likes lots of white space," she said.
"Also remember that your resume might be read on a device other than a PC, so keep your bullet points to three to five, and keep your paragraphs to three to five lines."
Simple is best 
While making your resume look professional and readable is something you should be paying attention to, when it comes to fancy graphics, you're better off avoiding them.
"Borders, shading, and whitespace are all important because they often make it easier to read the resume, but keep your font types to a maximum of two, and a maximum of one color," Freeke said.
"You do not need fancy graphics, you do not need photographs, just keep it really clean and simple and check."