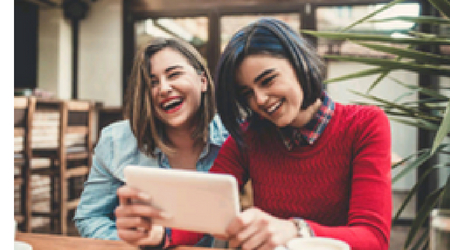 With not-for-profits currently employing over one million Australians, and the National Disability Insurance Scheme (NDIS) alone set to create over 70,000 new jobs by 2019, there's never been a more inspiring time to choose a career in the not-for-profit sector.
And yet the rewards and benefits of a NFP career are not well understood, especially amongst young people considering their options. And even if they are, not many school leavers or recent graduates know where to start.
"The NFP sector offers huge career opportunities for a broad range of young people, not just with the advent of the NDIS, but also within the many other diverse subsectors," says Richard Green, director, NGO Recruitment.
"What many people don't realise is a career in the NFP sector presents a unique chance to combine technical skills with social passions in areas as diverse as human rights, conservation, disability or the arts. For example, if you're a recent accounting graduate with a love of music, there's a range of NFP performing arts organisations who ultimately all need accountants," he says.
"In our experience, if you successfully marry these skills and motivations from the outset, then you're on the path towards a long and ultimately rewarding career."
Career pathways: qualifications
If you're a young person looking to enter the sector without a degree, the best option is to consider frontline job opportunities such as case management, counseling or care work. These roles offer a huge opportunity for a broader career within the sector.
There are numerous TAFE courses available focusing on community services, aged care, disabilities, allied health, mental health and youth work.  A minimum requirement is often a certificate III or IV and then there's the option to progress to diploma level.
Once you've built this valuable foundation within the sector, you're then in a position to be able to continue your studies to degree level, and into more senior management roles, if that's the path you want to take.
And if you're a young person looking to fast track into a management role within the sector, then a degree is important. And combining this level of tertiary education with an internship and some relevant volunteer experience is essential.
Top 5 tips to kick start your NFP career
Volunteer, volunteer, volunteer
If your passion is conservation, then you're more likely to be taken seriously by a potential conservation employer such as WWF, Taronga Zoo or Bush Heritage Australia if you can demonstrate an active involvement in this area. This is because many people working within the NFP sector are committed volunteers in their spare time. If you're considering a career in the NFP sector, then the chances are you are too.
Relevant work experience and internships are also a great way to gain experience and also look impressive on your resume. But one word of caution: do not let these placements continue for more than a couple of months. Even though you're laying the foundations for your career, you deserve to be remunerated for your efforts.
Preparation and promotion is key
You need a professional resume that's well designed and up to date. If you don't know where to start, there are numerous helpful guides to resume writing available online. Once it's ready to go, ask a family member, friend or mentor to provide feedback and check for inconsistencies and typos.
But your resume is just the first step. Today, many recruiters and senior decision makers will also take a look at your LinkedIn profile, so make sure this is comprehensive and current – and your skills and experience match your resume. Upload a professional-looking photograph, outline your motivations for joining the sector and list as much volunteer experience as you can.
Being active on wider social media also enables you to demonstrate your enthusiasm and commitment to the sector. Promote your volunteer work, not only via LinkedIn, but also Facebook, Instagram and even Twitter.
Keep an eye on a variety of job boards, not just Seek
Although Seek is often the go-to job board, there are many others specialising in the NFP sector. The largest ones are Ethical Jobs and Pro Bono Australia but there's a wealth of subsector job boards too. Do your research, subscribe to job alerts and also keep your eye on the websites of recruitment companies offering NFP roles.
Also, start to follow the organisations you're interested in on social media as they will often post job opportunities on their pages. LinkedIn also has its own job listings which can provide a valuable source of job leads and recommendations.
Be proactive and persistent
In addition to being reactive and responding to job ads, be as proactive and as persistent as possible. This is especially the case for recent graduates with general degrees such as business management, communications, marketing, law, psychology or accounting, where there's huge competition for graduate roles.
Firstly, pinpoint your motivations for joining the sector. Does your passion lie in human rights, refugees or disability? Or a combination of all three? From here, identify and research the organisations that represent these motivations. Once you've done this, you should have around 50 or so NFPs on your shortlist.
You then need to email your resume to as many decision makers within these organisations as you can. Explain why you're contacting them and ask to be considered if a junior role comes up. Follow up with a phone call. And keep doing this until someone responds, saying great, please come in.
Get your foot in the door
Finally, while you're proactively job hunting, consider temping within the NFP sector to at least get your foot in the door. Recruitment companies such as NGO Recruitment offer a wide range of temporary opportunities lasting from as little as one or two days to longer contracts lasting several months.
These may not ultimately be your perfect roles, but you'll be gaining invaluable experience, and contacts, while being paid. And if you show initiative and are good at what you do, temp roles can often lead to other opportunities within an organisation.