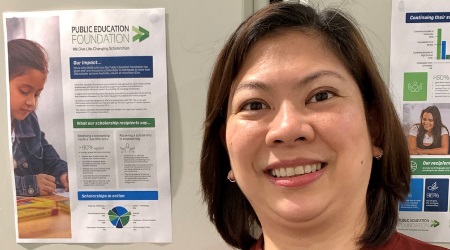 The Public Education Foundation is a not-for-profit organisation dedicated to providing life changing scholarships to young people in public education, as well as their teachers and principals. They support students with particular educational needs or talents reach their full potential and improve overall educational outcomes.
We talk to Miriam Valero, Philanthropy and Partnerships Manager who started in February this year, about her major responsibilities, the programs she plans to run, and how COVID-19 has affected fundraising campaigns.
What attracted you to the role at The Public Education Foundation?
I've always believed in the power of education as a means to a better future. Prior to moving to Australia, I was working as an Advancement consultant for various schools & universities in the Philippines. So working for PEF seemed like a perfect fit for me. PEF's advocacy of supporting students facing financial hardships and helping students overcome barriers created by social and economic disadvantage resonated well with me. I find greater meaning in my work knowing fully well that I'm helping change lives. It's a good reason to get out of bed!
What are your major responsibilities and what type of programs do you plan to implement?
I'm in charge of fundraising and just recently, I'm also handling marketing communications. There's a lot of story-telling in my job. We release a monthly e-newsletter to update our donors and community which consists mostly of educators including school support staff.  I manage our social media as well. We also have Christmas and Tax Appeals.
At the moment, I have two major goals aside from the obvious which is to raise funds, we are promoting our workplace giving program and looking for companies who may want to partner with us. Workplace giving makes it more convenient for people to donate and easier for them to manage those donations come tax time.
How has Covid-19 impacted the fundraising campaigns and events for The Public Education Foundation?
Sadly, we had to cancel our annual Proudly Public Award ceremonies and a few other events planned for our donors. It significantly decreased our opportunities to raise more funds for scholarships. But the need for scholarships is much greater these days because of the adverse impacts on Covid-19 on our economy. There are more families facing financial hardships. It is a very challenging time for fundraisers everywhere! We need to be more creative and more strategic in our approach.
What top three qualities do you need to have as a successful Philanthropy and Partnerships Manager?
I think it's fairly easy to succeed in fundraising.  A person needs:
Strong passion and conviction for the cause
Strategic mindset
People skills
How did your career progress towards where it is today? Have you always worked in the NFP sector?
My first job was an account executive in an advertising agency. After 3 years, I shifted to client side and was in brand & corporate communications for about 20 years. The stress level was becoming unbearable. After some soul searching and asking myself, "What will people say during their eulogy for me?".  I accidentally found myself in fundraising. I certainly couldn't bear the thought that my life would be summed up as having made TV commercials and print ads selling bank products & consumer loans.  As part of my soul searching process, I asked a mentor if she can help me find work that has some social significance and that I can somehow contribute to making someone's life a little bit better. She led me to this fundraising path and have been here for nearly 9 years now. It turns out that having my 20 years' experience in marketing communications is a huge advantage.
How would you describe your experience with NGO Recruitment?
Easy and simple! Lisa Morell took care of me very well and gave me updates on the status of the application. She explained the process clearly.  I'm glad she found me on LinkedIn!
Thanks so much for your time Miriam! If you would like to find out more about the Public Education Foundation and donate to this cause, click here.