Asia Pacific & International Recruitment
For over 10 years, we have recruited for a wide range of international non-government organisations looking to source both local and expatriate candidates for roles based in and around the Asia Pacific region and internationally.
What we do
Our focus is sector specific, role generic. Using a mix of exclusive executive search and permanent and contract recruitment services, we recruit all roles within an organisation – from country directors, campaign managers and fundraisers, to social workers, team managers and database assistants.
Internationally, we are particularly experienced in the specialty areas of emergency response, communications, training, project management, microfinance, advocacy and fundraising.
Our consultants have a specialist knowledge of the complex environment in which international NGOs and not-for-profits operate. We understand the necessity for transparency and accountability to donors, funding bodies, clients and other stakeholders. And we deliver tailored recruitment services to match.
Our team
Headed up by NGO Recruitment's director Richard Green and Manager, Asia Pacific & International, Outplacement Services Lead Lois Freeke, we specialise in partnering with international NGOs to source high calibre candidates across the Asia Pacific region and internationally. Lois is a conversational Mandarin Chinese speaker with almost two decades' in depth Asia Pacific experience and has recruited executive and operational roles for organisations including not for profits, across the Asia Pacific Region for almost 15 years.
We also have Emma Adams, Manager – UK, Europe & the Middle East, our dedicated consultant who is based in the UK and we work with a broad range of international NGOs and specialise in sourcing professionals from within the global NFP and wider business community.
Our reach
Our consultants have placed candidates in Japan, China, Singapore, Mongolia, Myanmar, Laos, Vietnam, Cambodia, Indonesia, Thailand, Pakistan, Timor-Leste, Fiji, Papua New Guinea, Philippines, Latin America, Africa and the US. Where relevant, we work in partnership with our Australian and UK teams to extend our networks internationally to source the very best global talent for specialist roles.
Countries in which we recruit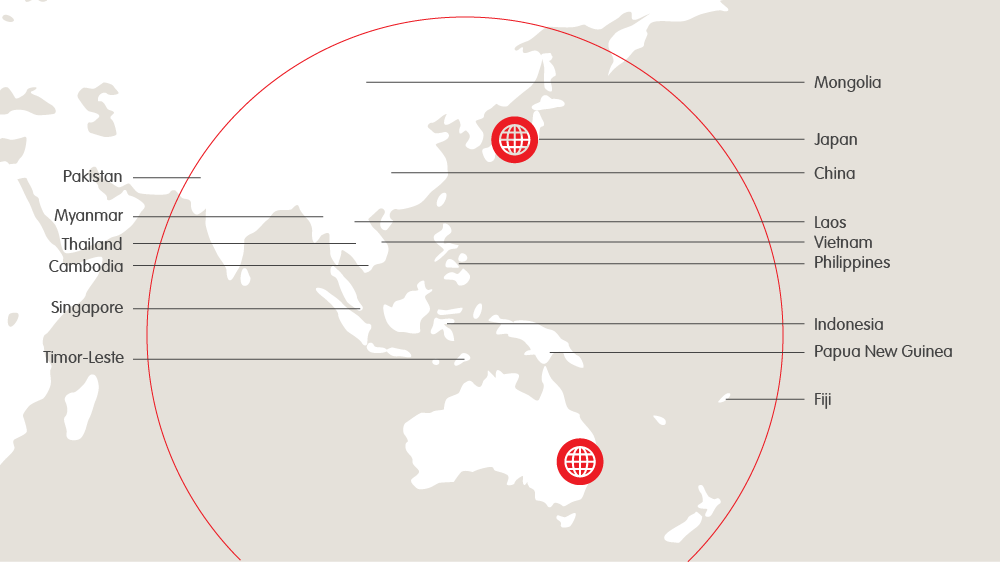 Testimonials
"Plan International recently used the services of NGO Recruitment, and that of Lois Freeke in particular, for the recruitment of a Pacific Program Director in our Asia Pacific Region.  Based on this experience, I highly recommend Lois and would certainly engage her again in the future. Lois was able to provide a timely and efficient, yet personal service,  that not only was successful, but left all stakeholders feeling very connected to the process.  
She remained in regular contact with me at all stages of the process, so that if I ever had a question or concern, she readily responded.  She was also extremely proactive, and was able to highlight any concerns, before they became an issue. Finally, last but not least, the pool of applicants she was able to provide was outstanding, and exceeded our expectations. All in all, it was an excellent experience, from start to finish, and I would recommend Lois and NGO Recruitment to others. "
Sumant Kumar, Regional Human Resources & Organisational Development Partner, Asia Region, Plan International
"Lois is a very professional recruitment specialist. She followed up closely and organized all interviews effectively."
Mike Liu, Associate Director of Development, Asia Pacific, The Nature Conservancy
"Thank you Lois! I asked all the candidates about their experience in liaising with NGO recruitment and everyone sang your praises.  It's always a pleasure working with you. Thanks." 
Kieren Fitzpatrick, CEO, Asia Pacific Forum of National Human Rights Institutions
"WWF Singapore engaged NGO Recruitment to source a number of key roles in our fundraising team, including the head of individual giving, database manager and head of philanthropy, as well as a specialist global palm oil lead. WWF Singapore is embarking on an ambitious growth strategy so having the right talent on board is absolutely critical, but our existing HR team had limited fundraising candidate networks or the time. I would recommend NGO Recruitment for anyone interested in hiring good fundraising talent."
Luke Heffernan, Director of Marketing and Fundraising, WWF Singapore
Case Study Example