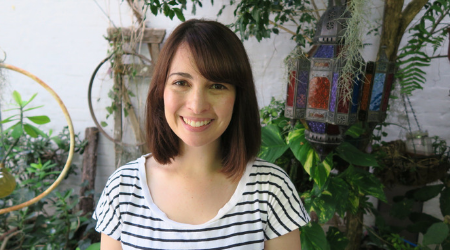 PRESS RELEASE
The board of 350.org Australia today announced the selection of the organisation's new CEO, Lucy Manne, who will begin in the new role in July this year.
Board member and outgoing CEO of 10 years Blair Palese said Lucy's appointment will help 350 in Australia continue to deliver effective campaigns that can make a difference to reducing emissions and supporting climate solutions post the recent federal election.
Lucy Manne has been a part of the climate justice movement for 10 years. She is the former National Co-Director of the Australian Youth Climate Coalition (AYCC) where she was named Prime Minister's Young Environmentalist of the Year in 2013, and has campaigned with the Wilderness Society and Climate Action Network Australia.
Most recently Lucy was the Head of Policy and Campaigns at women's rights organisation ActionAid Australia, campaigning in solidarity with women around the world on the frontline of Australia's fossil fuel industry.
Lucy will join 350.org Australia's team led by current acting-CEO and ongoing Deputy CEO and Campaigns Strategist Glen Klatovsky, adding to the depth of experience in the organisation.
Her focus will be to ensure a sustainable financial future for the organisation by establishing a strong and expanded fundraising program linked with the organisation's campaigns and growing national network of community activists.
Founded in 2009 in Australia, 350.org has focused on building a strong voice for climate change action, campaigning for fossil fuel divestment, ending new large-scale coal and gas projects and supporting Pacific Islanders to protect their homelands from the impacts of climate change.
Lucy's experience with both climate change and global justice organisations will add to 350's skills depth and help the organisation connect to global 350's work going forward.
"As a long-term admirer of the 350 movement in Australia and across the world, it's a huge honour to be joining the team," Manne said. "We are at a critical juncture in the fight for climate justice, and it's more important than ever to be building grassroots campaigns in solidarity with those most affected by the climate crisis.
"350.org is thrilled to bring someone of Lucy's calibre and experience to the team and drive the next phase of the organisation's work in Australia," said 350.org board Chair Richard Green.
"There is an urgent need for effective climate change campaigning and the organisation will move  forward with Lucy, Glen and a strong campaign team to take on the challenge in Australia."