Ben Pearson joined World Animal Protection Australia only two years ago and he hasn't looked back.  World Animal Protection (formerly The World Society for the Protection of Animals) is a truly global organisation, working in more than 50 countries across the world to achieve its vision of a world where animal welfare matters and animal cruelty has ended.
Ben Pearson has been a lifetime campaigner for sustainable living. Ben describes his passion for animals and conservation, his priorities and the challenges animal welfare organisations are currently facing.
Have you always been passionate about animal welfare?
I have always been passionate about social change and advocating for progressive causes, and that includes animal welfare. The way in which we exploit the natural environment and animals is unethical and unsustainable, and I've spent most of my life campaigning for a more just and sustainable approach.
What attracted you to the role at World Animal Protection and what are your major responsibilities?
I liked that World Animal Protection is a rigorously evidence-based organisation with a strong solutions focus. For example, we don't just say that elephant riding is bad, we demonstrate exactly how it affects the animals and impacts on their welfare. That makes our message more compelling and credible. Similarly, we don't just oppose low-welfare elephant venues; we work with venues to try and transition them to higher welfare standards.
My major responsibilities are to oversee the development and delivery of campaigns in Australia and New Zealand, and to contribute to the international campaign development process. I am also one of the main public spokespeople for World Animal Protection in Australia and New Zealand.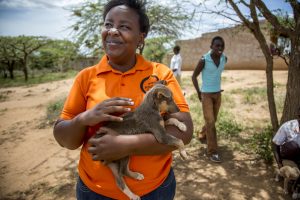 Emily Mudoga holds a puppy waiting for its vaccination in Makueni County, Kenya. World Animal Protection visited the region in April 2016 to oversee a small rabies vaccination drive carried out by the local government vets. Photograph: Georgina Goodwin
What are your priorities for World Animal Protection over the next 12 months?
Building on the success of our report into cruel Balinese wildlife entertainment venues which led to major corporations like Qantas and Flight Centre removing elephant riding promotions from their webpages is definitely one. We want all Australian travel companies and airlines to go further and actively help educate the Australian public about the need to avoid cruel wildlife entertainment venues.
Another priority is our farming campaign, which seeks to raise standards for animals on Australian farms – particularly chickens – and also ensure that the relatively high welfare standards that Australian pork producers employ are not undercut by lower welfare imports. We also looking forward to launching our campaign to help address the scourge of marine debris, which is a major threat to Australian sea animals.
What would you say have been your biggest achievements in the role to date? 
The major achievement has been localizing the international Wildlife. Not Entertainers campaign so that we are contributing to the international strategy through campaigns that are locally relevant. In particular this has been achieved through delivering the report into cruel Balinese wildlife venues and financing a feasibility study into the establishment of a sea sanctuary for the dolphins at Dolphin Marine Magic in Coffs Harbour.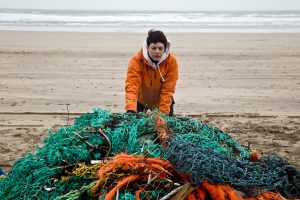 Christina Dixon observes the collected debris from the sea change campaign, the focus was finding ghost gear (discarded fishing nets) that are abandoned and can entangle animals. Photograph: Greg Martin
What are you finding to be the biggest challenges?
The almost complete absence of national leadership on animal welfare is a huge problem. The greatest animal welfare issue in Australian in terms of numbers is farm animals, yet in 2013 the federal government defunded the national strategy on farm animal welfare and disbanded the Australian animal welfare advisory committee. As a result, we have a patchwork of state laws and regulation. Even the productivity commission last year recommended that there be a national body to oversee animal welfare, which would be a win for farmers, consumers and animals.
What top three qualities do you need to have as a successful campaign manager?
Strategic and political sense
The ability to problem solve
A sense of humour
How did you first come across NGO Recruitment and how would you describe your experience?
I had the enormous good fortune to work with Richard Green at Greenpeace many years ago and knew that he had set up NGO Recruitment. I had always heard good things about it and when I was looking for a new job I checked out their website. My experience has been very positive; they were professional and organised and I landed a job I really love.
Thank you for your time Ben.
To support the invaluable work of World Animal Protection, please click here.