Asia Pacific Recruitment
NGO Recruitment Asia Pacific is the region's not-for profit sector recruitment specialist. For over 10 years, we have recruited for a wide range of international non-government organisations looking to source both local and expatriate candidates for roles based in and around the Asia Pacific region.
What we do
Our focus is sector specific, role generic. Using a mix of exclusive executive search and permanent and contract recruitment services, we recruit all roles within an organisation – from country directors, campaign managers and fundraisers, to social workers, team managers and database assistants.
In the Asia Pacific region, we are particularly experienced in the specialty areas of emergency response, communications, training, project management, microfinance, advocacy and fundraising.
Our consultants have a specialist knowledge of the complex environment in which international NGOs and not-for-profits operate. We understand the necessity for transparency and accountability to donors, funding bodies, clients and other stakeholders. And we deliver tailored recruitment services to match.
Our team
Headed up by NGO Recruitment's director Richard Green and senior consultant Damian Penston, we have recently expanded our offering into the region.
Damian has been based in Japan for many years and has over a decades' Asia Pacific recruitment experience, including successfully sourcing high calibre candidates for international development programs focusing on education, human trafficking, gender, governance, infrastructure and private sector development.
Our reach
Our consultants have placed candidates in Japan, Singapore, Mongolia, Myanmar, Laos, Vietnam, Cambodia, Indonesia, Thailand, Pakistan, Timor-Leste, Fiji, Papua New Guinea and the Philippines. Where relevant, we work in partnership with our Australian team to extend our networks internationally to source the very best global talent for specialist roles.
Our specialist recruitment services
Exclusive executive search
Board practice
Permanent recruitment
Contract recruitment
Project recruitment
Countries in which we recruit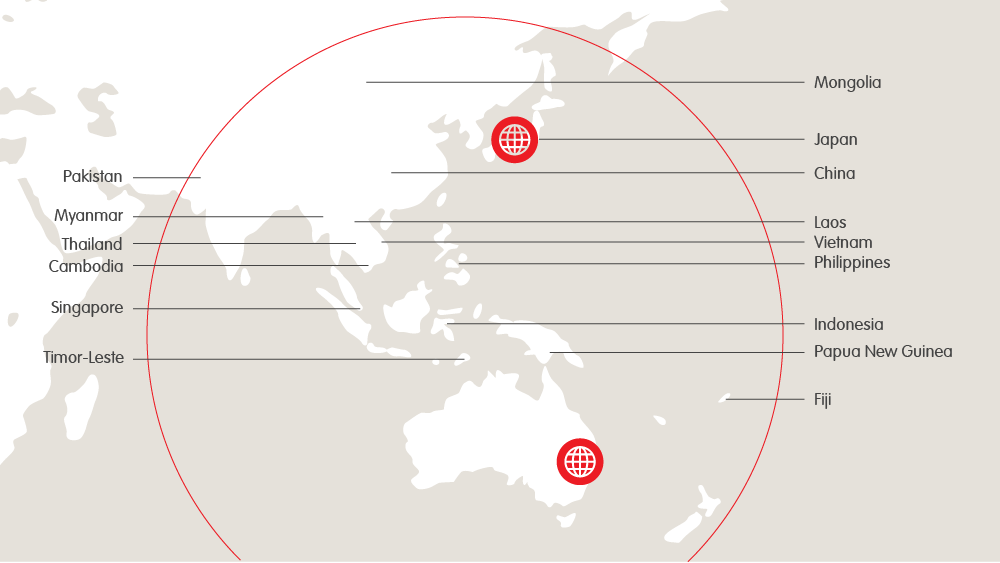 To download our Asia Pacific brochure please click here.
For a confidential discussion on your Asia Pacific recruitment needs and the services we provide please call Damian Penston in Tokyo on +61 2 8091 5055 or call our Sydney office on +61 2 8243 0570 or email damian.penston@ngorecruitment.com with your enquiry