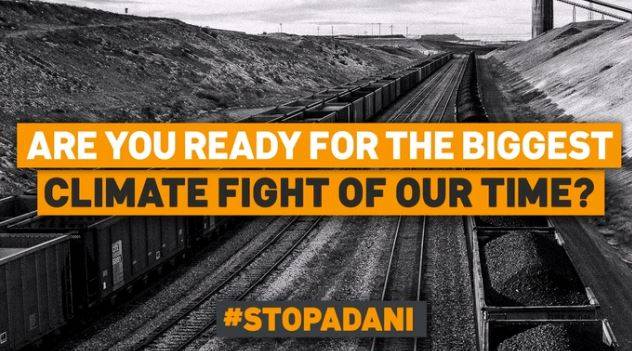 Dear all,
Michael and I have taken the unprecedented step of writing to you at a time when bitter partisanship passes itself off as debate on the subject of renewable energy in Australia.
Our government, backed by elements of the press, has waged an all out war against the move to solar and wind energy. Peddling in alternative facts, the South Australian blackouts have been exploited as a reason to turn away from renewables and back to coal for our future energy needs.
Hiding behind the scenes in all this debate is the coal lobby and a buoyant Minerals Council – indeed, it was the head of the Minerals Council of Australia who recently provided a lump of coal to the Federal Treasurer Scott Morrison to wave around in Parliament. In fact, the industry spent $2.5 million pushing the case for "clean coal" in the run-up to last year's election through third party groups.
Is it any wonder then that the war against renewables is gaining momentum under the Turnbull Government?
The Bradman Recruitment Group including NGO Recruitment is proud of its connections with the renewable energy sector with Michael leading Carbon & Energy Recruitment and Richard NGO recruitment, both of us are committed to a future where green jobs is the growing industry that it should be.
In this context, we would like to introduce to you the work of 350.org Australia. Richard is proud to have joined the Board of this dynamic organisation in June 2016.
350.org is a global movement that sprung out of the US behind the work of renowned author Bill McKibben who has been writing and advocating of the impending dangers of climate change for over 25 years.
350.org Australia is committed to transitioning Australia to clean energy to ensure a safe climate for future generations. Its fossil fuel divestment work has helped contribute to almost AUD $7 trillion of global commitments to shift away from fossil fuels.
350.org Australia is currently working to stop the Adani coal mine in QLD, a project that could single handedly break the global carbon budget and push the world over the safe global warming limit.
We're asking our friends and colleagues in the industry and sector to join us in taking a stand and demanding climate change action. 350.org Australia is currently at the forefront of a movement by putting together a national roadshow as a part of its #StopAdani campaign. This is our chance to make a difference – we ask for your help in making a contribution to this crucial campaign.
Join the thousands of Australians who support a safe climate future.
Kind regards
Richard Green, Director, NGO Recruitment
& Michael Green, Director, Bradman Carbon & Energy
Bradman Recruitment Group
P.S. If you would like to find out more about 350 Australia's roadshow plans, perhaps even to go along yourself, get more information from the #StopAdani roadshow website.
Make a donation to the campaign here